2010 HfDMK Frankfurt
Nov 2010
An artistic exchange partnership:
Tanja Liedtke Foundation and
Frankfurt University of Music and Performing Arts
(Hochschule für Musik und Darstellende Kunst)
In November 2010 Australian dancers Kristina Chan and Paul White will conduct a two week residency at the Frankfurt University of Music and Performing Arts (HfMDK) where they will teach excerpts of Tanja Liedtke's Twelfth Floor and construct as well as the short work, To My Suite to third year students of the BA dance course.
The project aims to provide students the chance to learn excerpts of Liedtke's repertoire from the choreographer's close collaborators. Through this experience, students are exposed to the development of the ideas behind the works, as well the artistic movement language of the choreographer.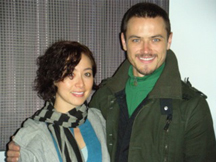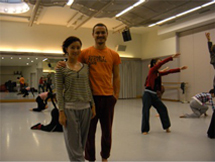 Kristina Chan and Paul White
After the first few days of the residency Chan commented, "We are so pleased to have been invited here to the Hochschule für Musik und Darstellende Kunst Frankfurt. It's a wonderful opportunity for us to share Tanja's work with the students and give them insight into who she was as a choreographer and how she worked in a creative process. The students are absorbing the choreography well. They listen keenly and are applying the information we are giving them. "
Kristina and Paul will also be teaching training classes for professional independent dance artists in Frankfurt's Künstlerhaus Mousonturm.
This project represents a unique opportunity for international collaboration and exchange, building new networks and opportunities to share artistic learning and development. It has been a pleasure to work with the University and we would especially like to thank Professor Dieter Heitkamp, Director of the Department of Contemporary and Classical Dance for his very generous support in enabling this project to happen. We would also like to thank Melanie Franzen and Marieke Uhl, Tanzlabor21 for their assistance and support in programming Paul and Kristina's teaching program at Mousonturm.
www.hfmdk-frankfurt.de
www.mousonturm.de
---
Die Tanja Liedtke Stiftung ist stolz, Andrés Garcia Martinez aus Zaragoza unterstützen zu können. Andrés hat in einem Wettbewerb diesen Platz an der HfMDK Frankfurt gewonnen und ist mit großem Einsatz dabei ein ausgezeichneter Tänzer zu werden und nutzt jede Gelegenheit dies zu zeigen.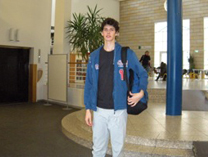 Andrés García Martínez from Zaragossa